Pop-Up Store
Todd, Michaela, Joanne, Geoff: they are the stuff wannabe-chefs dream about. They join and support Boston's best chocolatiers this Saturday at Boldfacers rich and gooey pop-up store devoted to all things chocolate. Pick up some gifts. Bring the kids. Don't eat a morsel beforehand. And break out your sweet tooth.
The Chefs
(In alphabetical order)
Whether it's the rush of morning commuters or a frenzied sugar seeking surge come mid-afternoon, Flour's staff welcomes the crush with enthusiasm. And how could you not be enthused when you're working for a boss like Joanne Chang? Her warmth and passion for cooking—never mind her unmatched culinary prowess—is what has really made Flour rise.
Todd and Isabelle English/Isabelle's CurlyCakes
With Isabelle English's imminent launch of CurlyCakes on Charles Street, it's clear the apple doesn't fall far from the tree. Just doors away from dad's high-end pizzeria, Figs, daughter of celebrity chef Todd and Olivia English is aiming to create cupcakes with personality. With Licensing Board meetings and interior design decisions behind her, Isabelle is about to make this path of Beacon Hill a lot sweeter. And make her dad and mom proud.
Sel de la Terre translates as Salt of the Earth, and their dishes define the French kiss equivalent to food. Their menu—stocked with rustic, local produce—has been expertly crafted by chef, owner and creative director Geoff Gardner. He brings with him years of training as a sous chef at L'Espalier, and with new branches of his business opening and flourishing, it's clear he's truly brought his vision of a French brasserie to life.
Michaela Larson and Tom Fosnot/ROCCA
It's the best of Boston's neighborhood dining options within one warm, beautiful space: ROCCA, where North End Italian fare meets the South End's cozy digs. Owner Michaela Larson and executive chef Tom Fosnot whips up authentic Ligurian provisions using classic European techniques and local ingredients. Think fresh, straightforward, and an instant trip to the Italian Riviera.
The Chocolatiers
(In alphabetical order)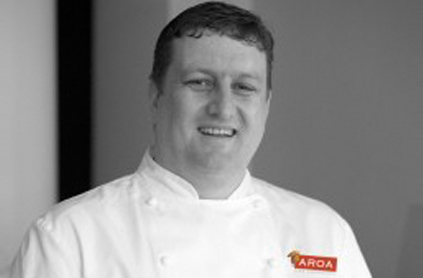 Aroa Fine Chocolate
Tim Brown, a South African native, graduated the Hospitality & Industrial Training Board Culinary Academy in Cape Town, and apprenticed at Zevenwacht winery and at Restaurant Au Jardin, Cape Town, which is rated one of the Top 10 best restaurants in South Africa. Tim then left for England and thereafter to the US to be part of the team to open the Emerson Inn & Spa, in Mt. Tremper, New York. Continuing to expand his education and experience, Tim has attended the CIA, Poughkeepsie, NY, and the Valrohna School of Chocolate in Hermitage, France, and has been the Executive Pastry Chef at the acclaimed Wheatley Hotel (one of only 46 Five Diamond restaurants in the country) and at the Turnberry Isle Resort and Club in Miami, Florida.Tim now joins Aroa Fine Chocolate, Boston, MA, as Executive Pastry Chef where the marriage of his experience and artisan skills with the finest ingredients, including El Rey premium single origin Venezuelan chocolates, will produce WOW! quality handmade chocolates and pastries.
Whether you're looking for a cool and creamy fix or a throat-thawing candy cane coated Ghiradelli hot chocolate, boYo—short for Boston Yogurt—is ready to satisfy your cravings. Their Hot Chocolate Bar offers a sweet array of no less than 25 toppings peanut butter cups! Chip! M&Ms!) of your choice. Sure to sweeten the sting of the snow.
Ever wondered about the origin of the Boston Cream Pie? What about the Toll House cookie? Solve these mysteries and more on one of Boston's Chocolate Tours as you taste your way through history. Taking place every Saturday, tours include an appetizing overview in wine and chocolate pairing, a privy sit-down tasting with an executive pastry chef, and stopovers with the city's keepers and pundits of fine chocolates.
What began as a Harvard Business School brainstorm has become an end of the evening oasis. Finale's pastries, cookies and cakes redefine decadence, and to top it off, these desserts are so artfully presented they could go up for auction. It's a rare thing to want to eat a work of art, but Finale makes it a sublime experience.
Harbor Sweets wants to chart your chocolate course. For the past 35 years, all hands have been carefully crafting on deck from their seaside outpost in Salem. They're proud to dock their Sweet Sloops—sailboat shaped chocolate covered almond buttercrunch, Marblehead Mints, with a hint of peppermint crunch and Sand Dollars, filled with soft creamy caramel—in Fort Point for the day…gift-packaged and ready to go.
It sounds like something out of Willy Wonka. But for members of MIT's latest student organization, it's about seminars based on chocolate deconstruction and experiments with texture and flavor. Participants made an incredible 4,000 truffles for this year's freshman fair, and they're proud to say they're the only group on campus that orders more than 500 pounds of chocolate a year. They'll be demonstrating all sorts of kooky cocoa science -- and urge you to experiment with them.
Sponsored by Cold River Vodka and PBD Events.
***This is a BOLDVERTISMENT. Boldfacers receives a percentage off of all sales at our pop-up stores.